Christmas Trees
free of herbicides and pesticides
maintained by hard work
Mark's Christmas Trees
1233 Safari Road
Millgrove, ON L8B 1A4
905-659-7046

Due to COVID 19
We are open for business
(self service this year)
by
APPOINTMENT ONLY
Phone: 905-659-7046/905-512-3657
Our Covid-19 Protocol must be followed
1) If you feel unwell in any way PLEASE STAY HOME
2) Check in by phone upon arrival
3) Payment by e-transfer or exact change in envelope
4) Wear a mask
5) Maintain a distance of 2 meters from anyone outside your household.
6) Bring your own saw if possible.

Boughs (Christmas Greens) for urns or decoration also available

Shouldn't your tree be really green this year?

Select and cut your own ECO-CHRISTMAS TREE
in a tranquil conservation-like setting
by Spencer Creek


Don't miss the experience of finding your Christmas tree
and bringing home the fresh smell of the outdoors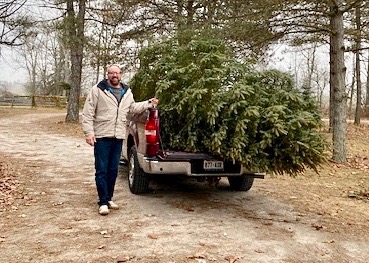 Bringing home the fresh smell of a twelve foot tree!

We would like to mention that the weather has been rather
unpredictable over the past few years,
and the trees do reflect what Mother Nature has decreed!
If you are expecting rows of fluffy symmetrical trees,
this place is not that!
However, if you enjoy the experience of exploring nature,
and would appreciate a unique tree
that can be part of your holiday adventure,
this may be just the place for you!

We have saws available on site!

Dog friendly!



Site updated November 23, 2020